NEXT 30-DAY COACHING SESSION
Sept 11-Oct 10
Want to learn how we eat as a lifestyle?
Are you tired of feeling tired all of the time?
Ready to feel better than ever and optimize your life?
Registration
Plus Insane Deals for Add-Ons
PERSONAL TOUCH
Dive into our lives for 30 days. Learn the most common inflammatory foods to eliminate to heal your gut, alleviate aches and pains, and get your body back. Identify the best sources of nutrition for boosting your energy, digestion, and fat-loss. Discover how your body is designed to eat so you can break away from poor habits and instill basic, life-changing strategies that will produce lasting results!
FULL PREP WEEK (Sept 4-Sept 10)
We spend an extra week teaching you how to get ready for the 30 day program, focusing on what your plates should look like, how to read labels, shopping guides, cabinet clean outs, and more!
OUR TOP 50 GO-TO MEALS
Instant downloadable e-book with our top Clean & Lean picks to get you started! Plus new ones added every challenge!
PRIVATE FACEBOOK GROUP
Constant daily coaching, motivational tips, and recipe shares.
FACE-TO-FACE COACHING SESSIONS
Sept 5th: 7-8pm preparation and mindset launch.
*Sept 8th: 7-8pm shopping with Coach Amber at Fresh Thyme in Westlake (mock weekly menu to shop for).
ZOOM CALLS
Sept. 10: 7pm Jumpstart and Q & A
Sept. 26: 1pm Halfway point motivation and Q & A
Oct. 3: 1pm How to continue this healthy lifestyle and Q & A
Listen to what they have to say
REAL PEOPLE. REAL LIFE. REAL RESULTS.
Megan
My preventative journey started 2 years ago. Thanks to Coach Amber's program I'm down a total of 75 lbs and over 24 inches. This gym changes bodies, minds, and energy levels like nobody's business! It's #morethanagym.
Israel
I started my weight in January at 215lbs and now I'm down to 158 and haven't stopped. I call this the "Whole Life" program because by choice, I haven't reintroduced anything inflammatory back into my diet. I'm forever changed because of Coach Amber's nutrition knowledge base and coaching!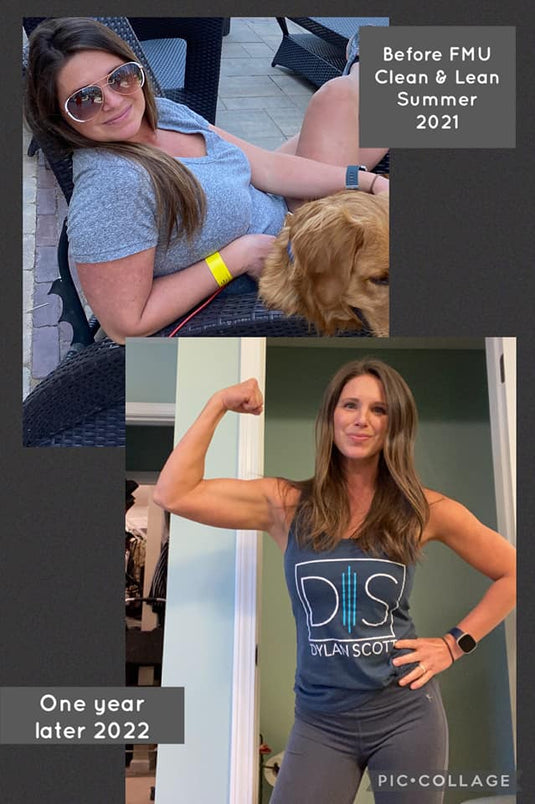 Teresa
One year ago I was at my heaviest weight and had very low energy. I was running 6 days a week and eating what I THOUGHT was healthy. No matter my efforts the weight kept going up and my tiredness kept getting worse. When I got the email about the FMU Clean & Lean Challenge in September 2021 I decided to do it. Thank goodness I did because I learned more about nutrition than I ever have before!!!! I lost 15lbs with the first C&L Challenge and my energy was amazing!!!! I was hooked! I participated in the January 2022 challenge, the April 2022 challenge, and this September 2022 challenge. Love it!! Total I've lost about 30+ pounds. Now I want to focus on gaining muscle!!  I can't thank Amber and Theo enough for all the positive and motivational guidance. And of course I could have never done this without God to lean on.  He is our strength!!
Jessica
I started tuning into Coach Amber and Coach Theo's content in February 2022. Then I signed up for the C & L Nutrition Challenge in September 2022. I thought I was eating right but I had no idea! I learned so much about nutrition and I'm now down 35lbs. It's a lifestlyle now and even my entire family has changed!
Kelly
I was at my breaking point when I met Coach Amber and Coach Theo. I tried everything and nothing worked. My body was fighting against me. Since I've started their coaching programs I have healed my gut, lost weight, and feel stronger and more energized than ever before. This is my new lifestyle and I'll never go back!
DIVE IN WITH US
THIS IS OUR LIFESTYLE
It's never too late and you're never too far gone.
JOIN US NOW